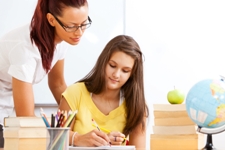 ABOUT US
We are a small tutoring company located in Austin, TX. We provide tutoring in most subjects K – 12, SAT Prep, and Beginner Music.
We offer in-home or on-location tutoring by Rhodes Scholar Qualified teachers committed to offering personalized instruction.  We focus on building confidence, organization, and understanding.  Sessions can be geared for advancing ahead or completing specifically targeted tasks.
Rhodes Scholar Tutoring was established in 2009 by Leigh Rhodes.  After teaching for 7 years in the elementary classroom, Leigh decided to set out on her own and start her own tutoring company.  Since then, we have been helping students in A.I.S.D., Eanes I.S.D., and Austin area private schools with building study skills, confidence, organization, and problem solving techniques.
We aim to create organized, self starters, who are practiced in the process of problem solving, knowledgeable of the concept behind the task, and capable of predicting and analyzing outcomes.  Our focus is improving organization, independence, and the ability to self assess.